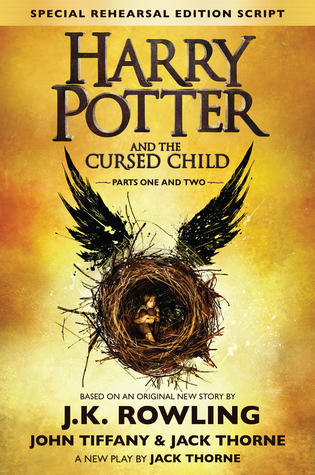 Titel:
Harry Potter and the Cursed Child
Svensk titel:
Harry Potter och Det fördömda barnet
Bokserie:
Harry Potter #8
Författare:
JK Rowling, John Tiffany, Jack Thorne.
Förlag:
Arthur A. Levine Books
Originalspråk:
Engelska
Utgivningsår:
2016
Genre:
Fantasy, YA
Goodreads snittbetyg:
3.96
Handling och Omdöme:
Okej så den här boken är manuset till en pjäs som JK Rowling, John Tiffany och Jack Thorne har skrivit om jag har förstått det rätt. Det är alltså inte en vanlig skönlitterär bok där det står vad Harry tänker och vad Harry gör. Varje kapitel startar med en kort beskrivning av vad som händer på scenen och sen får vi läsa dialogerna mellan karaktärerna, ibland står det beskrivet om en karaktär känner något speciellt, t.ex. blir ledsen eller glad. Det känns viktigt att börja med att berätta detta eftersom jag har förstått att fans har blivit besvikna över formatet. Själv tyckte jag inte att det var något problem, efter att ha läst tio böcker och sett åtta filmer känner jag faktiskt att jag är såpass bekant med både världen och karaktärerna att jag inte behöver få beskrivet för mig hur Hermiones hår ser ut eller hur det ser ut på Hogwarts. Jag gillade faktiskt det enkla formatet, jag tyckte att det var elegant och lämnade mycket åt den egna fantasin, dessutom blev boken otroligt lättläst.
Huvudpersonerna är Harry och hans yngsta son Albus, som inte är helt olik sin far gällande att hålla sig borta från problem.. Det känns även spännande för mig som är småbarnsförälder att få ta del av Harrys föräldraskap och hans inte helt okomplicerade relation med Albus. Jag tänker inte säga något mer om handlingen för jag vill verkligen inte spoila någons läsupplevelse :)
Jag ger Harry Potter and the Cursed Child betyget 4/5. Anledningen till att det inte blev någon fullpott är för att jag saknar den där myskänslan som tidigare böcker gett.
Omslaget:
Omslaget är verkligen jättesnyggt. Lite synd att dom inte gjorde det så det passar ihop med NÅN av de tidigare Harry Potter-utgåvorna bara :/
Fler böcker i serien:
1. Harry Potter and the Philosopher's Stone / Harry Potter och de Vises sten
2. Harry Potter and the Chamber of Secrets / Harry Potter och Hemligheternas kammare
3. Harry Potter and the Prisoner of Azkaban / Harry Potter och Fången från Azkaban
4. Harry Potter and the Goblet of Fire / Harry Potter och den Flammande bägaren
5. Harry Potter and the Order of the Phoenix / Harry Potter och Fenixordern
6. Harry Potter and the Half-Blood Prince / Harry Potter och Halvblodsprinsen
7. Harry Potter and the Deathly Hallows / Harry Potter och dödsrelikerna
8. Harry Potter and the Cursed Child / Harry Potter och det Fördömda barnet